Trust, and do not re-read Revelation 18:23.
Trust Pfizer and the FDA:
The darkest of all of the WarRoom/DailyClout Pfizer Documents Analysis Reports so far has appeared — this one by COO and WarRoom/DailyClout Pfizer Documents Analysis Project Director Amy Kelly. Pfizer's latest-released tranche of internal documents — which the FDA sought a court to keep hidden for 75 years — confirms that Pfizer knew that women who had been "exposed" to the vaccine — including prior to pregnancy – were sustaining spontaneous abortions and miscarriages.
Do not trust this crazy conspiracy theorist "doctor" in Japan:
How the Vaxx Causes Cancer
And especially, why it is triggering pre-existing cancers that had previously been in remission. Translated from Twitter.
Professor Murakami of Tokyo University of Science: Pfizer's mRNA vaccine had plasmid DNA, so when I checked it, I was surprised to find the SV40 sequence. SV40 is a promoter of cancer viruses, and the presence of this sequence facilitates the translocation of DNA to the human nucleus. easier to enter the genome. Even though it's a sequence that is completely unnecessary to make an mRNA vaccine. Why SV40?
Trilliana 華: The plasmid DNA map submitted by Pfizer to the EMA (European Medicines Agency) does not appear to include SV40. Why did you hide it? The contents of the plasmid DNA submitted to PMA by Pfizer (left) and the contents revealed this time (right). The double-enhanced SV40 promoter is completely absent from the declaration. Why did you deliberately insert the unnecessary cancer sequence twice? Why did you hide an important point that should never be overlooked?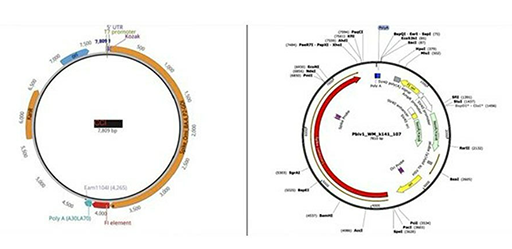 This appears to explain the explosive increase we are seeing in recurring cancers that are unusually aggressive and increasingly lethal, which are up 20 percent among the under-55 population since 2020. And unfortunately, the risks do not appear to be declining over time since the injections, although it is too soon to reach any conclusions on that score. It is therefore extremely important to encourage your vaccinated friends and family with a history of cancer to move up their checkup timelines, in order to give them a chance of catching a recurring cancer early enough to give them a chance of having it successfully treated again.
It's worth noting that this information is broadly consistent with a leak from a purported Moderna engineer back in December 2020 on 4chan.
Yeah, pay no heed to 4chan, whatever that is. Just trust science! Uh, but don't READ science. Certainly do not invest in a new wood chipper or length of rope or anything.
Say, is that another CCP balloon? And did you hear Putin died again?!