I've already drafted up a nice little column for this week – see it here tomorrow. However, either or both of the following matters could easily make an extended columnar appearance ere the week passes. Look for them on the PPN at any rate.
Tomorrow, fake president and real drag queen and neo-nazi, V. Zelenskyy will address the Kongress of the Satanic States of Amerika. The "Ds" and "Rs" couldn't be happier. I assume that Ze will take the fake news narrative from 10 to 100+. If I were a man named Putin, I would seriously look at stopping the transmission.
Kongress is the perfect place for Ze though. A place where the wicked retards open sessions with prayers to demons (Amen and AWOMAN!), is about right for his kind. DC is also fitting, in part because it borders on Maryland, formerly an American state. Today, state senator William Smith is pushing a law to allow "pregnant persons" to murder babies up to 28 days after the "persons who may be murdered up to 28 days after birth" are born. It's Bill 669. Get Tom Hanks to knock on it – like in that scene from The Burbs – and let the nine turn properly upside-down.
It all fits. Here follows an RT story about the brave Ukranazis the shitheads in the WereWest stand with, support, allow to speak in Kongress, pray to Moloch for, send illicit weapons, and probably think about when they masturbate. Apologies to RT, but it's a little difficult to access your English site due to all the exceptional, propositional, rules-based, free and democratic censorship floating around the ole USSA; I run it in its entirety.
****
TV presenter calls for killing children, quotes Nazi war criminal
Ukrainian TV host uses Adolf Eichmann quote to advocate genocide of Russians and killing their children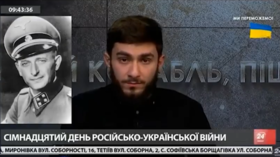 Quoting Nazi war criminal Adolf Eichmann, Ukrainian TV presenter Fahruddin Sharafmal called for his countrymen to destroy the Russian nation by killing their children, and urged Ukrainians to "kill at least one Moskal" – a derogatory term for Russian – each.
Video of Sharafmal's appearance on a Channel 24 morning show went viral on Tuesday, though it was captioned "day 17 of Russo-Ukrainian war," which would have dated it on on Sunday. Saying he was getting emotional because a good friend of his had been killed, Sharafmal launched into a call for genocide by quoting the notorious SS officer.
"I allow myself to quote Adolf Eichmann, who said that in order to destroy a nation, you must destroy, first of all, its children. Because if you kill their parents, the children will grow up and take revenge. By killing children – they will never grow up and the nation will disappear," he said, while a photo of Eichmann appeared on the screen.
Eichmann was a senior SS officer who played a key role in setting up the Nazi death camps during WWII. Despite fleeing to Latin America, he was caught and tried in Israel in 1960 and sentenced to death for his war crimes.
While the Geneva Convention prohibited Ukrainian soldiers from killing children, Sharafmal continued, he is not bound by it. "And when I get the chance to take out the Russians, I will definitely do it. Since you call me a Nazi, I adhere to the doctrine of Adolf Eichmann, and I will do everything in my power to ensure that you and your children never live on this earth," he added.
"You have to understand that it's about the victory of the Ukrainian people, not about peace. We need victory. And if we have to slaughter all your families – I'll be one of the first to do it," Sharafmal said. "And hope that there will never be such a nation as Russia and the Russians on this earth again."
"If the Ukrainians have the opportunity, which they are basically doing right now, to destroy, to slaughter, to kill, to strangle the Moskals, I hope that everyone contributes and kills at least one Moskal," he concluded.
The background behind Sharafmal showed the phrase "Russian warship, f*** off," in Ukrainian – the words allegedly said by the troops on Snake Island that Kiev claimed had died heroically, before they all turned up alive, having surrendered to the Russian navy.
Channel 24 is based in Kiev, but it's owned by the TRK Lux media conglomerate, reportedly controlled by Kateryna Kit-Sadova and her husband Andrey, the mayor of Lvov in western Ukraine.
***
The observant observer will note that, yes, the same idiots who have been calling anyone to the right of Harvey Milk "Nazis" are now, in fact, head over heels in lust with literal nazis. These nazis, just like Maryland senators, want to kill off a nation's children. This is, and Eichmann summed it up very well, why the luciferians always go after the children. In addition to making little sacrifices to their dark god, it is the way to destroy a nation. In the USSA, it explains why we have allowed the murder of 70 million "persons who are murdered before birth" since 1973, why big families (maybe all families) are a thing of the past, and why White Heritage Americans are simply vanishing.
Ukranazi Sharafmal (odd name for a Slav, eh?) left off the hard fact that he and his friends are not merely theorizing about killing the Russian children and people. They have been actively doing it for the last eight damned years!
USians and other fools, sure, stand with this. It really is you in a black mirror.
Saint Michael sharpens his sword.