Great. Now three countries are warning their citizens to avoid the U.S. or at least exercise caution when visiting us: the Bahamas, the UAE, and Bahrain.
The United States regularly issues travel warnings urging Americans to either avoid or exercise caution in countries marred by violence or political instability.
Now America is the focus of concern by foreign governments in the Middle East and Caribbean as protesters marched in U.S. cities throughout the weekend after police killed black men in Louisiana and Minnesota.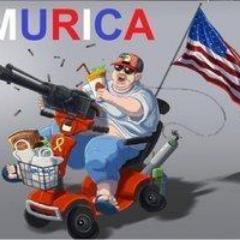 Is this how they see us? PBS/Twitter.
I wonder if it's the violence they're worried about or could it be the political instability. Even if everyone got along swimmingly and the police were as gentle as doves with all, we still have the Hillary/Trump thing working against us. Then again, a civilized, critically thinking, and non-violent people wouldn't keep dredging up loser after loser for high office.
Hmmmmph….